If you are brand new to SEO (search engine optimization) you may not be familiar with the Overture Keyword Tool that Yahoo supported at one time. It was a great tool to determine the search volume of keywords and phrases so that you could identify keywords that you may want to target in your SEO or PPC campaigns.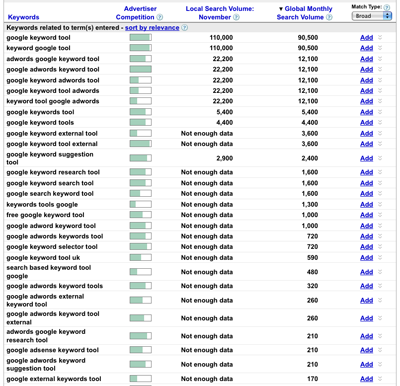 Overture became unpredictable. Sometimes it worked and sometimes it didn't and if I remember right it was even down for a couple of weeks and then, low and behold it was back online only to go down again and this time for good.
At some time in that chain of events Google was cooking up their own Google external keyword research tool. First it was available in the back office for Adword accounts but now is available online at https://adwords.google.com/select/KeywordToolExternal .
This tool proves to be very powerful in helping to determine:
1. Keyword popularity for items of SEO like page naming and anchor text.
2. Depending on who you talk to it is valuable for choosing a domain name.
3. It is helpful when setting up a Adwords PPC campaign.
I know many of you know all about this but for the newbies you need to get use to this tool and become proficient with it if you want to be successful.